·荣获ISO/TS16949:2009质量体系认证
·产销是企业的心脏 品质是企业之命脉
·Awarded the certificate of ISO/TS16949:2009
·Production and marketing being the heart of our company

联系人
总经理:曾耀辉
副总经理:洪淑真
电话(TEL):
021-59213555
传真(FAX):
021-59215317
邮编(Zip):201711
E-mail:fzmetal@fzmetal.com
地址(ADD):
上海青浦区白鹤镇赵屯社区兴利路150号
No. 150 XingLi Road, Baihe, Qingpu County, Shanghai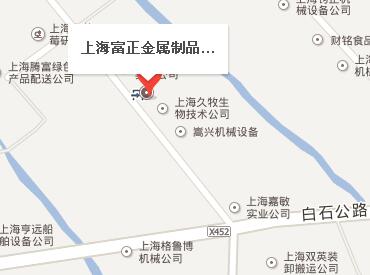 您现在的位置是Your position is: >> FUZHENG Metal >> 生产管理
//生产沿革Production History//
1996年03月 上海富正年金属制品有限公司成立
1996年07月 投产热水器主要配件
1996年09月 投产摩托车配件
1997年03月 投产汽车灯具配件
1997年09月 投产电动马达外壳
1998年01月 投产电动工具主配件
1998年03月 投产汽车发动机配件
1999年05月 投产室内外照明灯具
2000年08月 投产吸尘器配件
2001年01月 投产汽车刹车阀配件
2002年02月 投产电子类产品零配件,同时增加产品铬酸盐处理生产线。
Enterprise Development:
In March, 1996 Shanghai Fuzheng Metal Products Co.,Ltd set up
In July, 1996 Stard to produce main parts for water heater
In September, 1996 Started to produce motorcycle parts
In March, 1997 Started to produce automobile lighting parts
In September, 1997 Started to produce motor case
In January, 1998 Started to produce electric tool parts
In March, 1998 Started to produce automobile engine parts
In May, 1999 Started to produce indoor and outdoor lightings
In August, 2000 Started to produce vacuum cleaner parts
In January, 2001 Started to produce vacuum cleaner parts
In February, 2002 Started to produce electronic components, also installed chromate treatment production line.

//生产制造Manufacturing//
本公司一向秉持生产优良的产品,增进顾客的利益围最高的信念,因此不断引进国内外一流设备,制造精良的产品,配合严格的品质管制、严密的科学管理,籍以生产令客户满意、信赖的产品。
Our company has always adhered to produce superior products with the highest concept of improving customers' benefit so we have continuously introduces first class equipment from home and abroad to manufacture good products with strict quality control and scientific management to win customers' satisfaction and trust.

//研究发展Research and Development//
在研究精致,快速的今日社会里,产品的生命周期日益缩短,只有不断的开发新式样、新功能才能延续企业的发展。本公司成立研究部门,从产品之设计、开模、制造均独立完成,以期能提供顾客最大之满足。
In today's quick developing society in search of precision, the life cycle of product has shortened day by day so only by developing new models of different functions ceaselessly, can our enterprise continue to develop.
Our company has set up a R&D department, completing product design, mold making and manufacturing independently to offer highest satisfaction to customers.