·荣获ISO/TS16949:2009质量体系认证
·产销是企业的心脏 品质是企业之命脉
·Awarded the certificate of ISO/TS16949:2009
·Production and marketing being the heart of our company

联系人
总经理:曾耀辉
副总经理:洪淑真
电话(TEL):
021-59213555
传真(FAX):
021-59215317
邮编(Zip):201711
E-mail:fzmetal@fzmetal.com
地址(ADD):
上海青浦区白鹤镇赵屯社区兴利路150号
No. 150 XingLi Road, Baihe, Qingpu County, Shanghai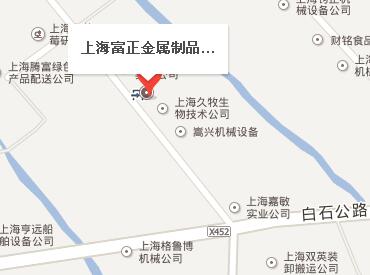 您现在的位置是Your position is: >> FUZHENG Metal >> 公司概况Company Profile
上海富正金属制品有限公司系台商投资企业,属上海市铸造协会定点单位,于2001年荣获上海市颁发的铸造许可证(铸2001012)。主要经营项目:锌铝压铸成型,锌铝表面处理,精加及模具开发设计制造。
公司成立于1996年3月,总投资380万美元,占地面积12亩,员工562人,月产铸件150吨,本公司拥有先进的压铸成型设备、先进的表面处理及精加工设备。压铸机吨位从135T-800T共11部,全部采用自动浇铸,其中4部采用全自动操作,满足了市场高品质要求的各类产品。2002年通过ISO9001质量体系认证。富正公司以诚实、正实、勤实、务实的经营理念,本着感谢的心来服务社会,以感谢的心来为员工谋求福利,并以精益求精的精神来提升、研究、发展、用落实执行的态度来提升产品品质,以创造企业的永绩经营来回馈客户。藉此感谢您对富正的支持与爱顾。




Shanghai Fuzheng Metal Products Co.,Ltd is a Taiwanes-invested company, listed as fixed unit of Shanghai Foundry Association and granted with foundry license by Shanghai Municipality (Foundry 2001012). The main operation items include zinc and aluminum surface treatment, precision processing and mold development, design and manufacturing.
Set up in march, 1996, the company has the total investment of US﹩3.8 million with the whole area of 12mu and the total workforce of 562. Turning out 150tons casting every month, the company has advanced die-casting equipment, surface treatment equipment and precision processing equipment. All the 11 units die-casting machines from 135T to 180T operate in automatic pouring with 4 units in full automatic operation, which can produce various products up to high quality requirements in the ISO9001 quality system certificate.
By the operation concept of honesty, integrity, diligence and practicality, the company serves the society and searches for welfare for staffs by thankfulness, realizes advancement, research and development by constant improvement, upgrades the product quality by practical implementation and repays to the customers by continuous operation of the enterprise. Thereby I would like to thank you for your support and case for Fuzhen!